Help us build a solid foundation of financial support for SEED Junior Academy (SJA) in Kenya! You'll get free entry into all Buddha on Fire events & cool perks for as little as $6/month.
Our initial goal is $384/month* in monthly donations. This will cover the cost of SJA's meal program, ensuring students have two meals every day at school. Additional funds will support other essential school expenses.
* This number may fluctuate with the needs and attendance of the school.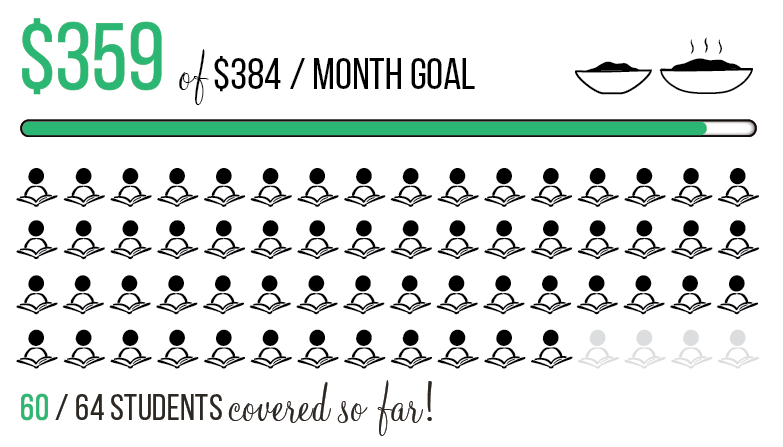 [LAST UPDATED: MAY/27/20 4:02PM] This diagram is updated manually, check back again to see how you made a difference!
Because of your generosity and awesomeness, we've arranged member perks for you too! We are excited about this new step, and are grateful for your continued support.
31 MEMBERS and counting!
Membership Perks:
FREE ENTRY into all Buddha on Fire events (3-4 per year) – members still recommended to RSVP for each event to reserve a spot.
$10 Fresh GIFT CARD for ALL new members!
15% OFF at Fresh on takeout orders*
10% OFF at Downward Dog Yoga Centre on 5, 10, 20 class passes
☆☆☆ NEW ☆☆☆ 10% OFF at Mosaic Yoga Toronto on single, 5, 10 class passes
Members-only PRIZE RAFFLES at Buddha on Fire events
Exclusive 24/7 access to feelings of awesomeness!
Official TAX RECEIPT (sent out end-of-year for monthly donations)
Snazzy MEMBERSHIP CARD
Stay tuned for more…
Event tickets for members: Members still need to secure their spot to Buddha on Fire by RSVPing here
* Proof of membership must be shown every time, the discount doesn't apply to desserts, retail drinks (including cold pressed juice), cookbooks, 32oz bottles or any other retail items, and it can't be combined with any other discounts.
Membership Pricing:
A minimum $6/month donation makes you a member!   An annual total as low as $72 or just $18 per event, or 20 cents/day! You can contribute any amount though, even if you are unable to attend the events! Click here to donate.
We are building towards a fundraising goal of $384/month over 12 months. That will be enough to feed the students at SEED Junior Academy for their entire 9 month school year!
How your donation will help:
$6/month – feeds 1 KID for a YEAR*
$12/month – feeds 2 KIDS for a YEAR
$30/month – feeds 5 KIDS for a YEAR
* Based on a school year of 9 months and 64 students (the number of students can fluctuate).
follow us on facebook!
"I've seen first-hand the work that you do in Kenya, and I'm so honoured to be involved in helping support the education and development of these underserved communities. With love x" – Buddha Member

Membership Sponsors: